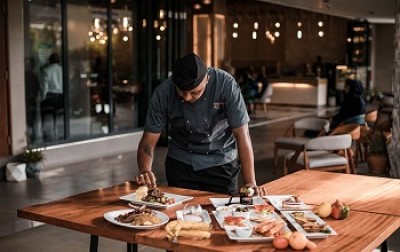 Are you tired of your usual recipes and looking for some inspiration to switch things up in the kitchen? Look no further than Tomco AI's Celebrity Chef Cook-Off guided template! With this AI template, you can cook with your favorite celebrity chef without even leaving your kitchen. Whether you're a beginner or an experienced cook, this template is designed to help you improve your skills and create delicious dishes.
In this blog, we'll guide you through the Celebrity Chef Cook-Off template and show you how to use it to generate amazing content in seconds. We'll cover everything from the template description to tips and tricks for using it effectively. So, let's get cooking!
Choose Your Celebrity Chef
The first step in using the Celebrity Chef Cook-Off template is to choose your favorite celebrity chef. The template offers a variety of options, from Gordon Ramsay to Ina Garten to Bobby Flay. Once you've selected your chef, the template will provide you with a list of ingredients and step-by-step instructions for their signature dish.
Follow the Recipe and Cook Along
Once you've chosen your celebrity chef and their signature dish, it's time to start cooking! The template provides clear and concise instructions, making it easy for even beginners to follow along. As you cook, you'll learn new techniques and skills from your favorite chef.
Add Your Own Twist
While the template provides a signature dish from your favorite celebrity chef, that doesn't mean you can't add your own twist to the recipe. Feel free to experiment with different flavors and ingredients to make the dish your own. Who knows, you may even come up with your own signature dish!
Tomco AI's Template: Celebrity Chef Cook-Off
Here at Tomco AI, we believe that our guided templates are the future of content creation. With our powerful AI technology, you can generate amazing content in seconds, no matter your skill level or experience. Our Celebrity Chef Cook-Off template is just one example of how our templates can help you create engaging and high-quality content in minutes.
Here's a sample output of this template:
Introduction:
Welcome to my kitchen, where the heat is high, and the flavors are even higher! Today, we're going to be whipping up a classic Italian dish that will make your taste buds sing with joy. That's right, we're making Spaghetti Bolognese, and I'm going to show you how to do it like a pro. So, grab your apron, and let's get cooking!
Now, before we dive into the recipe, let me tell you a little story. When I was a young chef, I traveled to Italy to learn the art of pasta-making from the masters. I spent months perfecting my technique, and when I finally returned home, I knew I had something special. So, I took that knowledge and combined it with my own unique flair, and the result was a Spaghetti Bolognese that would make even the pickiest of eaters lick their plates clean.
Ingredients List:
- 1 pound ground beef
- 1 onion, chopped
- 3 cloves garlic, minced
- 1 can crushed tomatoes
- 1 tablespoon tomato paste
- 1 teaspoon dried oregano
- 1 teaspoon dried basil
- 1/2 teaspoon salt
- 1/4 teaspoon black pepper
- 1/2 cup red wine
- 1 pound spaghetti
- Parmesan cheese for serving
Nutrition Information:
Now, I know some of you are health-conscious, so let me break down the nutrition information for you. This recipe serves 4 people, and each serving contains approximately 600 calories, 25 grams of fat, and 30 grams of protein. But let's be real when you're eating something this delicious, who cares about the calories?
Recipe:
1. Start by heating a large pot of salted water over high heat. Once it comes to a boil, add the spaghetti and cook until al dente, about 8-10 minutes.
2. While the pasta is cooking, heat a large skillet over medium-high heat. Add the ground beef and cook until browned, breaking it up with a wooden spoon as it cooks.
3. Once the beef is browned, add the onion and garlic to the skillet and cook until softened, about 5 minutes.
4. Add the crushed tomatoes, tomato paste, oregano, basil, salt, and pepper to the skillet and stir to combine.
5. Pour in the red wine and bring the mixture to a simmer. Reduce the heat to low and let it cook for about 20 minutes, stirring occasionally.
6. Once the pasta is cooked, drain it and add it to the skillet with the Bolognese sauce. Toss everything together until the pasta is coated in the sauce.
7. Serve hot with a generous sprinkle of Parmesan cheese on top.
And there you have it, folks! A Spaghetti Bolognese recipe that will knock your socks off. Remember, cooking is all about passion and creativity, so don't be afraid to experiment and make it your own. Now, go forth and cook with confidence!
Tips & Tricks
To get the most out of the Celebrity Chef Cook-Off template, here are some tips and tricks:
Make sure you have all the ingredients and tools you need before you start cooking.
Read through the recipe and instructions carefully before you begin.
If you're unsure about a step, watch a video tutorial or read up on the technique.
Don't be afraid to make mistakes - that's how you learn and improve.
Conclusion
In conclusion, Tomco AI's Celebrity Chef Cook-Off guided template is a fantastic tool for anyone looking to improve their cooking skills and create delicious dishes. By choosing your favorite celebrity chef and following their signature dish, you'll learn new techniques and skills while having fun in the kitchen. So, what are you waiting for? Get cooking with Tomco AI!
Try Tomco AI for free.
Sign up and start with 10,000 words.
Sign up takes 1 minute. Free trial for 7 days. Instant activation.