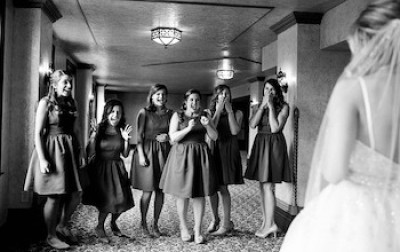 Being asked to be the maid of honor is a great honor but it can also be a daunting task. One of the biggest responsibilities of the maid of honor is to give a speech at the wedding reception. This speech should not only be memorable but also heartfelt, funny, and touching. Fortunately, Tomco AI's Guided Template for Maid of Honor Speech can help you craft the perfect speech that will leave not a dry eye in the house.
Using this template, you'll be able to generate amazing content in seconds, making your speech-writing process stress-free and enjoyable. So, let's dive into how you can use Tomco AI to create a memorable maid of honor speech for your best friend.
Template in Action
Here's a maid of honor speech written by Tomco AI. But remember - this is only the starting point, you should always personalize a speech that is this unique and special.
Dear friends and family,
I am honored to stand here today as Michelle's maid of honor and witness the union of two amazing people, Michelle and Thomas. Michelle has had her fair share of questionable dates, but then Thomas came along and swept her off her feet. From the moment they met, it was clear that they were two peas from the same pod. They just love hanging out together, and you'll find them at a Broadway show, dancing at a concert, or hopping on a plane any day of the week.
Michelle, you are one of the most amazing people I know. You are kind and caring, and always put others before yourself. You have been there for me through thick and thin, and I am so grateful to have you as my friend. Thomas, you are the perfect match for Michelle. You are kind, funny, and always know how to make her smile. You bring out the best in each other, and I know that you will have a lifetime of happiness together.
As you embark on this new journey together, I want to offer you some advice. Always communicate with each other, even when it's hard. Remember to laugh together, even in tough times. And most importantly, never forget why you fell in love with each other in the first place.
Michelle and Thomas, I wish you all the love and happiness in the world. Congratulations on your wedding day!
Tips & Tricks
Here are some tips and tricks to keep in mind when using Tomco AI's Guided Template for Maid of Honor Speech:
Practice your speech beforehand. This will help you feel more confident and comfortable when delivering your speech.
Keep it appropriate. While you want your speech to be entertaining, make sure to keep it appropriate for the occasion. Avoid any embarrassing stories or inside jokes that only a few people will understand.
Keep it short and sweet. Aim for a speech that is between two to five minutes long. This will ensure that the audience stays engaged and doesn't get bored.
Use humor. A well-placed joke can help break the ice and keep the audience engaged. Just make sure to keep it tasteful and appropriate.
End on a high note. End your speech with a heartfelt wish for the bride and groom's future together. This will leave the audience feeling emotional and happy.
Using Tomco AI's Guided Template for Maid of Honor Speech, you can easily craft a memorable and heartfelt speech for your best friend's wedding. Remember to keep it appropriate, practice beforehand, and end on a high note.
With these tips and Tomco AI's help, you'll be sure to deliver a speech that will leave not a dry eye in the house.
Try Tomco AI for free.
Sign up and start with 10,000 words.
Sign up takes 1 minute. Free trial for 7 days. Instant activation.